The Mega Jam is now over and everyone is waiting for Epic to reveal the winner. Needless to say, we were extremely excited about participating in it. Seven days of hard work allowed  us to create a tiny game, that we are really proud of and would like to show it to the world. This month's game jam theme was "Standing on the shoulders of giants". It's great how guys at Epic come up with topics with wide field for interpretation! Both literal and metaphoric 🙂
So what (R)evolution Jumper is all about? Go ahead and watch the gameplay video!
@MichaelAllar who is making titanic effort on streaming gameplay of every single game that was submitted for the jam, already featured our little game. It was insane to watch him play and hear that he loved it. Made our cheeks blush! 🙂
That's pretty niffty

Allar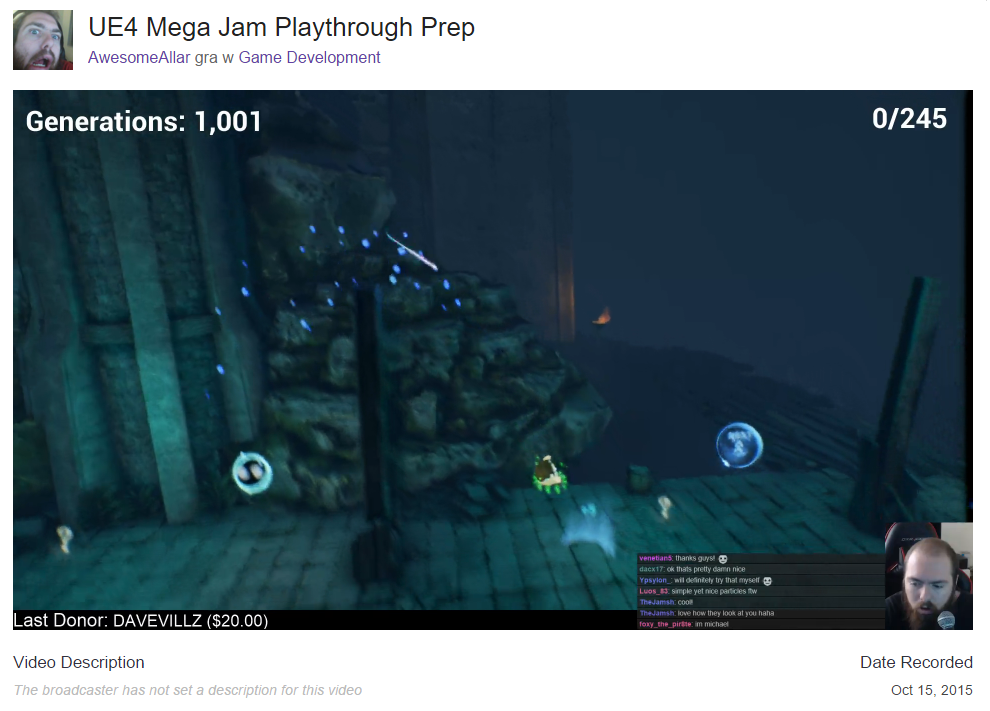 Watch Allar playing our game: Twitch

As much as we enjoyed making our game we also had great time playing games submitted by other competitors. It will never cease to amaze me what people can make within such short period of time. Hats off.
Description:
(R)evolution Jumpers is a game where you must sacrifice one generation so next one can proceed in the world full of puzzles and deadly traps. Complete each level by reaching and putting togheter broken crystal. Just remember… always think about the future generation!
NOTE: please be careful with the volume level during game start! That's a bug where all sounds are played at once on each level begin event!
Controls:
GamePad (recommended):
Left stick to move
A to jump
B to open portal to another dimension
Y Interact
Start pause menu
Keyboard:
A / D or left right arrow to move
W / Spacebar to jump
LMB to open portal to another dimension
RMB interact
ESC pause menu
Team members:
Paweł Miniszewski (@PMiniszewski) – VFX/Level Design
Michał Orzełek (@MichalOrzelek) – 3D Artist/Level Design
Paweł Siech – Programmer/Level Design
Karol Szyszka – Programmer / Level Design
Elöd Somogyi – 3D Artist
Disclaimer:
For this submission we used assets available on marketplace: The Pirate Bay and Infinity Blade. Music and sound samples downloaded from: https://www.freesound.org/ .
DOWNLOAD: